Some of the men in our residential, faith-based addiction recovery program spend time learning woodworking skills.
The swings, gliders, picnic tables, and benches are sold to individuals, churches, and businesses in our community. The proceeds from these sales provide funding for the program.
Your purchase helps the men and women participate in our program free of charge. This is a unique feature to the Mission of Hope. Thank you for your support!
Hope 5-Foot Glider
$325
Hope 5-Foot Swing
$225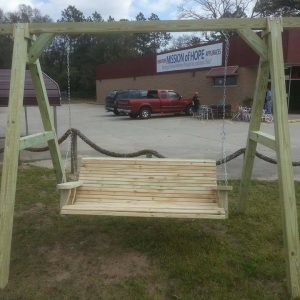 Hope "A" Frame Swing
"A" Frame $275 (with 5-foot Swing $450)
Hope Picnic Table
$300
Questions and Orders
If you have questions or you would like to purchase an item from our Wood Shop, please submit this form and we will reach back to you to make the arrangements.