Please contact the Mission of Hope for your woodworking needs!
These items are all made in our wood shop at our men's campus. If you don't see what you're looking for, or have an idea for something custom, please let us know.
Mission Farmhouse Coffee Table
$150.00
Mission of Hope Glider
Our gliders are handmade by the men at Mission of Hope. $250.00.
Mission of Hope Swings
We have 4' and 5' swings. The 4' swing is $150.00 and the 5' swing is $160.00.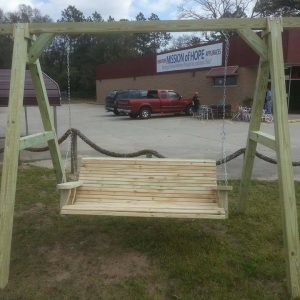 Mission "A" Frame Swing
$325.00
Mission Picnic Table
$250.00
Questions and Orders
If you don't find what you're looking for, have a question about an item you see or would like to purchase one of our items, please complete the form below and we will be in touch with you shortly.